268-269 Tottenham Court Road, London, W1T 7AQ GB
Datos de interés
El inventario de entradas más grande del West End
Disponibilidad de asientos a tiempo real
Elige tus asientos
Tu reserva es procesada directamente en el sistema de reservas de la taquilla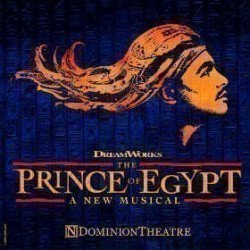 The Prince of Egypt
Reserva desde: miércoles 5 de febrero 2020
Reserva hasta: sábado 12 de septiembre 2020
Entradas

desde 46,99€
Reserva entradas
Acerca de The Prince of Egypt
Límites de edad
Suitable for a general audience and recommended for children 7+. Children under the age of 5 cannot be admitted.
Información Importante
Everyone attending the theatre must have a valid ticket regardless of age.
Tiempos de rendimiento
Reserva desde: miércoles 5 de febrero 2020
Reserva hasta: sábado 12 de septiembre 2020
Descripción de The Prince of Egypt
Experience the epic emotion and soaring music of THE PRINCE OF EGYPT, the extraordinary new musical from three-time Academy Award-winner Stephen Schwartz (composer of the global phenomenon Wicked). Journey though the wonders of Ancient Egypt as two young men, raised together as brothers in a kingdom of privilege, find themselves suddenly divided by a secret past. One must rule as Pharaoh, the other must rise up and free his true people; both face a destiny that will change history forever. Based on the acclaimed DreamWorks Animation film, and featuring the Academy Award-winning, chart-topping song 'When You Believe', THE PRINCE OF EGYPT is an exhilarating, powerful and joyous celebration of belief and the human spirit.
Próximas actuaciones para The Prince of Egypt en el Dominion Theatre
miércoles
5 feb 2020
19:30