Piccadilly Theatre
16 Denman Street, London, W1D 7DY GB
Actualmente en
Piccadilly Theatre
The Lehman Trilogy
Piccadilly Theatre
4,6/5
-

Basado en

28

evaluaciones - (Críticas)
4,6

28

evaluaciones
Entradas

desde 128,99€
Following a sold-out run at the National Theatre, the NT and Neal Street Productions' critically acclaimed production of The Lehman Trilogy transfers to the West End for 12 weeks only. 
Sam Mendes (The Ferryman, Skyfall) directs Simon Russell Beale, Adam Godley and Ben Miles who reprise their acclaimed roles as the Lehman Brothers, and their sons and grandsons.
Reserva hasta: sábado, 31 agosto 2019
Duración: 3 hours 20 minutes
Con la actuación estelar de: Adam Godley, Ben Miles, Simon Russell Beale
The Lehman Trilogy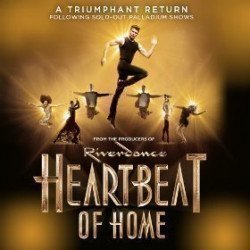 Heartbeat of Home
Piccadilly Theatre
Entradas

desde 16,49€
From the Producers and Director of Riverdance, Heartbeat of Home is a tantalizing, high-octane, sexy music and dance extravaganza.
This heart–stopping tour de force features the dynamic vibrant components of traditional Irish, Latin, Hip-Hop, Afro-Cuban and Contemporary music and dance combined in a new and exciting fusion. A live band plays music from the award-winning Irish composer, Brian Byrne (who has worked with Katy Perry and Barbara Streisand). State-of-the-art video projections round off this extraordinary music dance extravaganza.
Following sold out performances at the London Palladium, Heartbeat of Home is delighted to be returning to the West End this September.
Reserva desde: miércoles, 4 septiembre 2019
Reserva hasta: domingo, 13 octubre 2019
Duración: 1 hour 50 minutes
Heartbeat of Home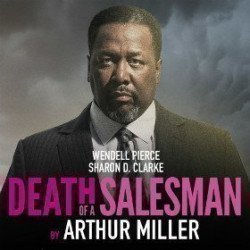 Death of a Salesman
Piccadilly Theatre
4,8/5
-

Basado en

12

evaluaciones - (Críticas)
4,8

12

evaluaciones
Entradas

desde 47,49€
Following a sold out run at the Young Vic theatre, the smash hit, critically acclaimed production of Death of a Salesman transfers to the Piccadilly Theatre for 10 weeks only.
"I don't say he's a great man…but he's a human being, and a terrible thing is happening to him. So attention must be paid. He's not to be allowed to fall in his grave like an old dog. Attention, attention must finally be paid to such a person."
Reserva desde: jueves, 24 octubre 2019
Reserva hasta: sábado, 4 enero 2020
Duración: 3 hours
Death of a Salesman
Instalaciones del Piccadilly Theatre
Con aire acondicionado
Bar
Sistema infrarrojo de escucha
Miembro del plan de Q-Park
Servicios
Acceso para discapacitados
Lugar del Piccadilly Theatre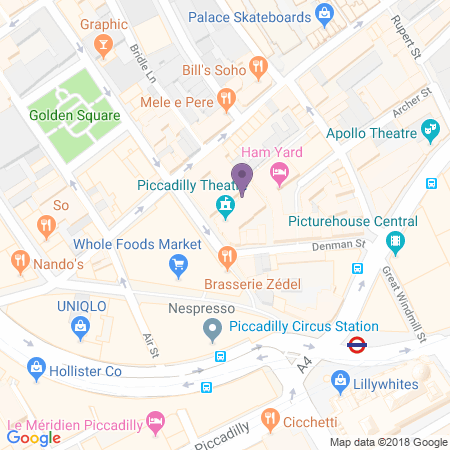 Indicaciones
Cómo llegar
Estación de metro más cercana
Piccadilly Circus

Leicester Square
Estación ferroviaria más cercana
Líneas de metro
Bakerloo
Piccadilly
Northern
Buses diurnos
(Shaftesbury Avenue) 14, 19, 38; (Regent Street) 3, 6, 12, 13, 15, 23, 88, 94, 139, 159, 453
Buses nocturnos
(Shaftesbury Avenue) 14, N19, N38; (Regent Street) 6, 12, 23, 88, 94, 139, 159, 453, N3, N13, N15, N18, N109, N136