Ambassadors Theatre
West Street, London, WC2H 9ND GB
Actualmente en
Ambassadors Theatre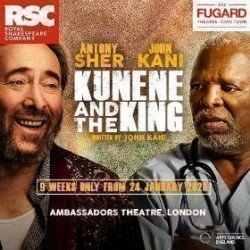 Kunene and the King
Ambassadors Theatre
Entradas

desde 29,49€
Don't miss John Kani's highly acclaimed play Kunene and the King marking the 25th anniversary of the end of apartheid with a strictly limited London run, following its premiere in Stratford-upon-Avon and a sold-out run in Cape Town. 
South Africa, 2019. Twenty-five years since the first post-apartheid democratic elections, two men from contrasting walks of life are thrust together to reflect on a quarter century of change. Jack Morris is a celebrated classical actor who's just been given both a career-defining role and a life-changing diagnosis. Besides his age, Jack has seemingly little in common with his at-home nurse Lunga Kunene, but the two men soon discover their shared passion for Shakespeare, which ignites this 'rich, raw and shattering head-to-head' (The Times). 
Reserva desde: viernes 24 de enero 2020
Reserva hasta: sábado 28 de marzo 2020
Duración: 1 Hour and 36 Minutes
Kunene and the King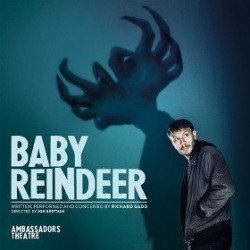 Baby Reindeer
Ambassadors Theatre
When award-winning comedian Richard Gadd offers a stranger a free cup of tea, he has no sense of the nightmare to come. One act of kindness. Six years of torment.
The sell-out smash hit of last year's Edinburgh Fringe, Baby Reindeer is the "blistering" debut play (Telegraph) from Richard Gadd (Monkey See Monkey Do, Netflix's 'Sex Education'). Directed by Olivier Award-winner Jon Brittain (Rotterdam), this is a chilling personal account of compulsion, delusion and obsession. Some admirers simply won't be shaken off. "A haunted, haunting hour." (The Guardian)
Reserva desde: jueves 2 de abril 2020
Reserva hasta: sábado 2 de mayo 2020
Duración: 65 Minutes
Baby Reindeer
Instalaciones del Ambassadors Theatre
Con aire acondicionado
Bar
Sistema infrarrojo de escucha
Miembro del plan de Q-Park
Servicios
Entradas para personas discapacitadas para el Ambassadors Theatre
Las personas discapacitadas y sus cuidadores pueden obtener descuentos en sus entradas. Llame al teléfono de la línea del Ambassadors Theatre en el 020 7395 5405.
Lugar del Ambassadors Theatre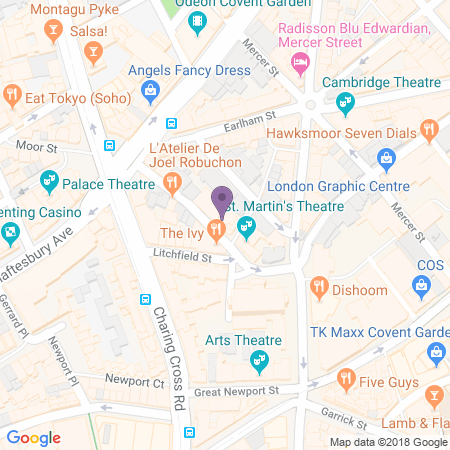 Indicaciones
Cómo llegar
Estación de metro más cercana
Leicester Square

Covent Garden
Estación ferroviaria más cercana
Buses diurnos
(Charing Cross Road) 14, 19, 38, 24, 29, 176
Buses nocturnos
(Charing Cross Road) 14, 24, 176, N5, N19, N29, N38, N41, N279