West Street, London, WC2H 9NZ GB
Datos de interés
El inventario de entradas más grande del West End
Disponibilidad de asientos a tiempo real
Elige tus asientos
Tu reserva es procesada directamente en el sistema de reservas de la taquilla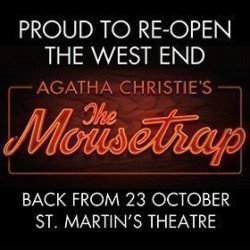 Mousetrap
4,5/5
-

Basado en

872

evaluaciones
Reserva desde: viernes 1 de enero 2021
Reserva hasta: domingo 28 de marzo 2021
Duración: 2 hours 20 minutes
Entradas

desde 26,49€
Reserva entradas
Acerca de Mousetrap
Límites de edad
Recomendada para mayores de 12 años.
Información Importante
We recommend patrons arrive at least 15 minutes in advance of the show start time. 
Please note that the theatre are no longer accepting bags into the theatre cloakrooms.
St Martins Theatre will continue to carry out bag searches and accept there may be some delays to patrons, please be aware that your bags will need to be checked before being seated.
Tiempos de rendimiento
Reserva desde: viernes 1 de enero 2021
Reserva hasta: domingo 28 de marzo 2021
Duración: 2 hours 20 minutes
Descripción de Mousetrap
La Ratonera (The Mousetrap)- un clásico genuino en el adorable St Martin's Theatre.
El teatro de St Martin alberga esta clásica obra, la legendaria Ratonera de Agatha Christie. Es interesante ver a una generación tras otra disfrutar del argumento como siempre se ha hecho. Los tiempos cambian. Pero una excelente historia y argumento siguen y siguen. Así que, únase a siete millones de personas que ya han disfrutado con The Mousetrap y forme parte de la trama del siglo.
La obra que más tiempo lleva representándose, la reputación de The Mousetrap va a más. Los giros del argumento, públicos sentados en el borde de sus butacas todo el tiempo y todo el mundo se marcha con una gran sonrisa. ¿El argumento? Un grupo de extraños, con pasados turbios, reciben una invitación para ir a una casa de campo aislada para descubrir, aterrorizados, que hay un asesino en su seno. Uno por uno los personajes se van quitando la careta y al final, el momento del ataque de nervios, la identidad del asesino- y el escurridizo motivo- se revelan.
Todos a bordo... reserve ahora para pasar una tarde disfrutando de un excelente misterioso asesinato al estilo de los años 30 en Londres.
Próximas actuaciones para Mousetrap en el St Martins Theatre
Opiniones de Mousetrap
4,5 de 5
Basado en

872

evaluaciones
Qué esperar:
La actuación
La música
El vestuario
La historia
La iluminación
Recomendado por:
Todo el mundo (69%)
Familias (75%)
Adolescentes (73%)
Parejas (84%)
Aficionados (91%)
Últimos Comentarios de clientes

Genial
Escrito el 13 diciembre 2019 por Inmaculada, Valencia, Spain

Entretenido
Vi otra versión en España que me gustó mucho más, pero estuvo muy bien y la recomiendo, esta obra me tiene enamorada.
Escrito el 04 marzo 2018 por Elisabet, Torremolinos, Spain